© Markus Richter / Faculty of Sociology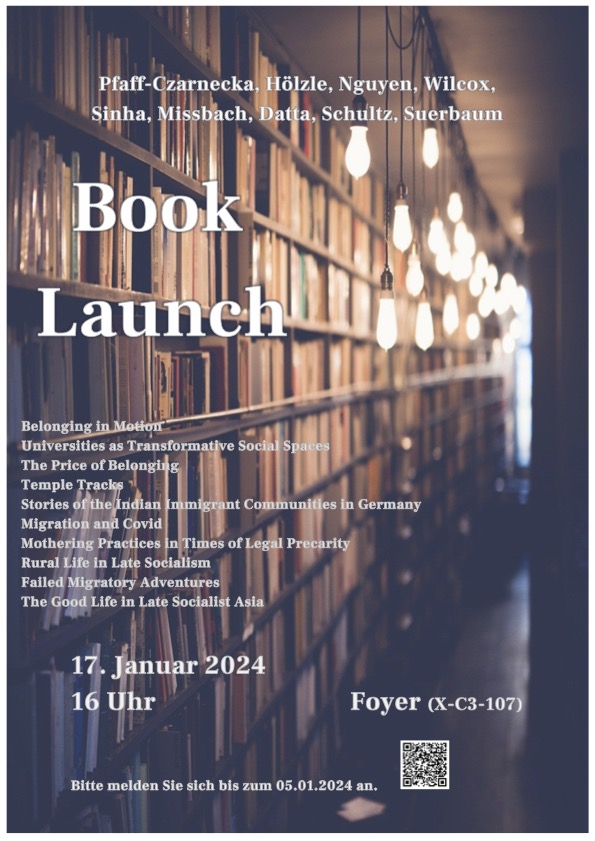 Der Arbeitsbereich 6 (Missbach, Faist, Pfaff und Nguyen) der Fakultät für Soziologie lädt am 17. Januar 2024 zur Book Launch ein. Sollten Sie Interesse haben an diesem Event teilzunehmen können Sie sich über den QR-Code des Posters oder per E-Mail an sekretariat.missbach@uni-bielefeld.de anmelden.
Wir freuen uns auf Ihr Kommen.
Anmeldeschluss bis einschließlich 05. Januar 2024.
A book review on Seb Rumsby´s "Development in Spirit: Religious Transformation and Everyday Politics in Vietnam's Highlands" has been published on the LSE Southeast Asia Blog. It was written by Phill Wilcox. To read the review click here.
On October 10th he Understanding Asia Colloquium Series continues with th screening of the documentary `And Miles to Go Before I Sleep´. It will take place from 16 to 18 in X-E-0-226 and can also be joined via Zoom. For registration click here.
Nguyen Quoc Phi was an undocumented migrant worker, or a 'runaway', in northern Taiwan before he was shot nine times by the police and left unattended by the paramedics on 31 August 2017. What made him 'run away' from his factory work? How did he find jobs in various construction sites? Why did he start taking drugs? Was he an imperfect victim? These are straightforward questions leading to complicated answers. The award-winning documentary And Miles to Go before I Sleep brings to the fore the nakedness of discrimination and the challenges to humanity if we choose to be bystanders indifferent to inequality and injustice.
The content of the documentary includes violent scenes, and the topics under discussion may be stressful for some viewers.
Film length: 90 Minutes
Q&A and Knowledge Co-Production Activity: 30 Minutes
Director: Tsai Tsung-lung, National Chung Cheng University
Tsai Tsung-Lung is an Associate Professor at the Department of Communications of the National Chung Cheng University and works as an independent documentary producer and director. He takes a humanist approach to his works concerning human rights, environmental crisis, and cultural diversities. Tsai endeavored to promote the visibility and understanding of documentaries and, as a lecturer, has dedicated to training filmmaking amongst students and amateurs. Some of his recent works were collaborated with his Vietnamese spouse, Nguyen Kim Hong, concentrating on migrant spouses and workers in Taiwan, such as See You, Lovable Strangers that recorded the hardships of Vietnamese farmworkers. His film My Imported Wife was archived in the Museum of Television and Radio in New York. Sunflower Occupation, the latest film produced by Tsai, was selected in the New Asian Currents item in the 2015 Yamagata International Documentary Film Festival.
Coordinator: Dr. Isabelle Cockel (University of Portsmouth) and Huy Tran (Bielefeld University)
Dr. Isabelle Cockel is Senior Lecturer in East Asian and International Development Studies at the University of Portsmouth. Her research focuses on labour and marriage migration in East Asia. She is particularly interested in how the state instrumentalises immigration for political economic interests. Her publications focus on sovereignty, citizenship, gender, activism, and irregular work in the informal labour market. Enacting upon her commitment to academic activism, she utilises academic blogs to raise public awareness of inequality and injustice embedded in labour migration.
Dr. Huy Tran is a postdoctoral research fellow at the Faculty of Sociology, Bielefeld University. His research pays attention to the several patterns and aspects of transnational migration in East Asia and the Vietnamese migrant community in Japan. He also has an interest on the sexual and gender dimension in transnational migration, migration brokerage and the migration industry.
Nguyen, Minh T. N., and Lan Wei. 2023. "Peasant Traders, Migrant Workers and 'Supermarkets': Low-Cost Provisions and the Reproduction of Migrant Labor in China." Economic Anthropology 1–11. https://doi.org/10.1002/sea2.12292.
Wilcox, Phill, Rigg, Jonathan, & Nguyen, Minh T. N. 2023. Rural Life in Late Socialism: Politics of Development and Imaginaries of the Future. Brill. https://brill.com/display/title/63621?rskey=s2AkuQ&result=4.
Mao, Jingyu. 2023. "Doing Ethnicity—Multi-layered Ethnic Scripts in Contemporary China". The China Quarterly 1-15. https://doi.org/10.1017/S0305741023000681.
Mao, Jingyu. 2023. "Bringing emotional reflexivity and emotional regime to understanding 'the hukou puzzle' in contemporary China. Emotions and Society". https://doi.org/10.1332/263169021X16731871958851 (published online ahead of print 2023).
Mao, Jingyu. & Yan, Zhu. 2023. "Friends are those who can help you out: unpacking the understandings and experiences of friendships among young migrant workers in China". Families, Relationships and Societies. XX(XX): 1–17. https://doi.org/10.1332/204674321X16770752617895 (published online ahead of print 2023).
Lin, Jake. & Mao, Jingyu. 2023. "More equitable fiscal systems are needed to improve welfare provision for migrant workers in China and Vietnam". Melbourne Asia Review. Edition 14. https://doi.org/10.37839/MAR2652-550X14.13 (Equal authorship).
Whereas the welfare state in the Global North has been a response to industrialization and the rise of the workers' movement, the Global South is characterized by different legacies of social policy that stem, among others, from their colonial histories and the influence of transnational actors such as international organizations. In recent decades, social policies have further expanded across the Global South, as international organizations such as the ILO have (re-)discovered global poverty and the widespread lack of social protection for certain groups in the so-called "developing world" as intertwined. In light of far-reaching societal transformations, there have certainly been large-scale social policy developments in these countries in recent decades.
This lecture series hosts eminent scholars of social policy, anthropology, development and related fields, who will present their work on new frontiers of research on welfare in the Global South. Overall, the lecture series enquires into the varying trajectories of welfare transformations in the Global South and their political, historical and social contexts.
All lectures, with exception of the first, will be hybrid events. To register to the Zoom events click here.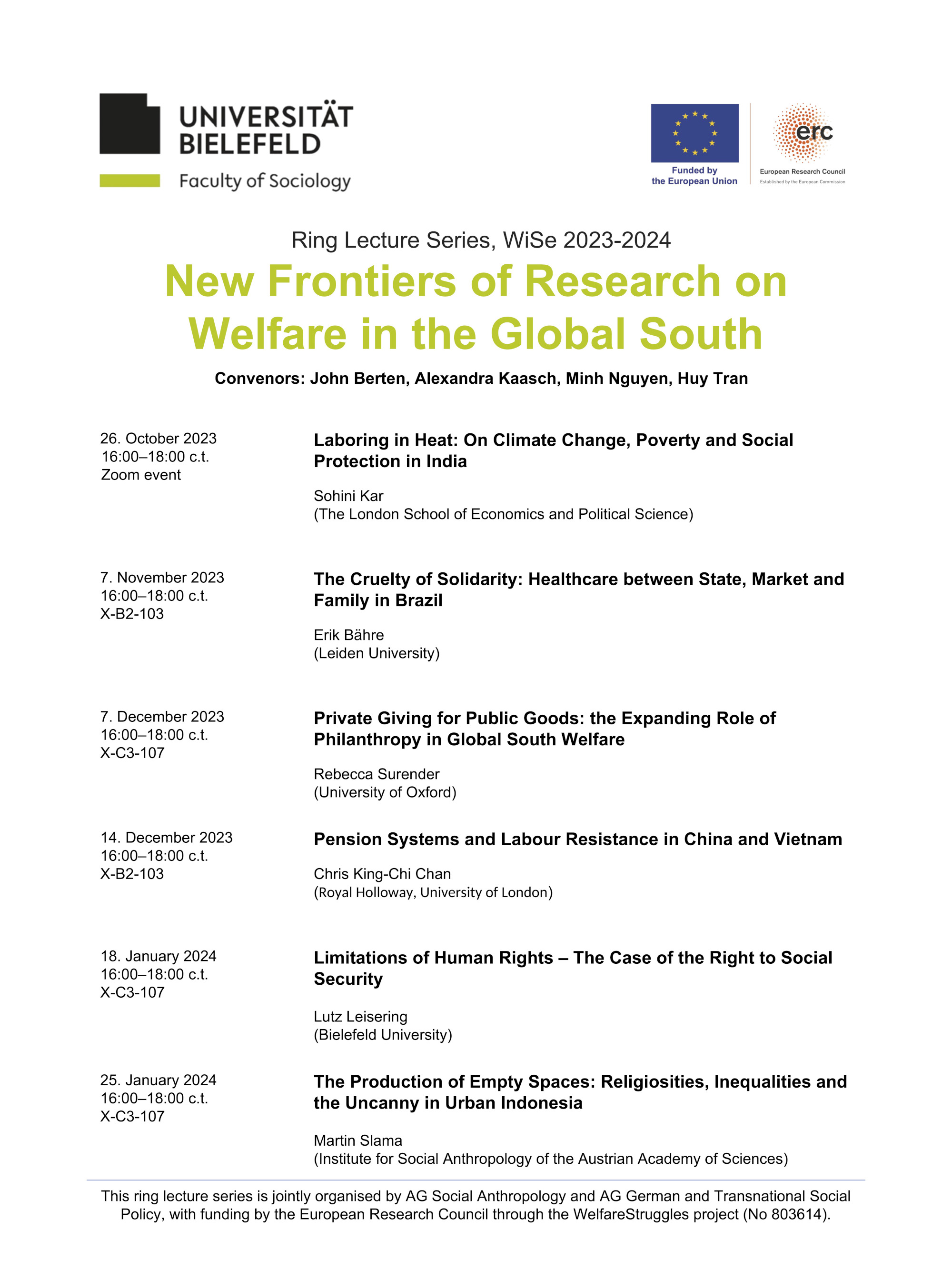 ---