© Markus Richter / Faculty of Sociology
News
Nguyen, Minh T. N., and Lan Wei. 2023. "Peasant Traders, Migrant Workers and 'Supermarkets': Low-Cost Provisions and the Reproduction of Migrant Labor in China." Economic Anthropology 1–11. https://doi.org/10.1002/sea2.12292.
Wilcox, Phill, Rigg, Jonathan, & Nguyen, Minh T. N. 2021. "Rural Life in Late Socialism: Politics of Development and Imaginaries of the Future." European Journal of East Asian Studies, 20(1), 7–25. https://doi.org/10.1163/15700615-20211009.
Mao, Jingyu. 2023. "Doing Ethnicity—Multi-layered Ethnic Scripts in Contemporary China". The China Quarterly 1-15. https://doi.org/10.1017/S0305741023000681.
Mao, Jingyu. 2023. "Bringing emotional reflexivity and emotional regime to understanding 'the hukou puzzle' in contemporary China. Emotions and Society". https://doi.org/10.1332/263169021X16731871958851 (published online ahead of print 2023).
Mao, Jingyu. & Yan, Zhu. 2023. "Friends are those who can help you out: unpacking the understandings and experiences of friendships among young migrant workers in China". Families, Relationships and Societies. XX(XX): 1–17. https://doi.org/10.1332/204674321X16770752617895 (published online ahead of print 2023).
Lin, Jake. & Mao, Jingyu. 2023. "More equitable fiscal systems are needed to improve welfare provision for migrant workers in China and Vietnam". Melbourne Asia Review. Edition 14. https://doi.org/10.37839/MAR2652-550X14.13 (Equal authorship).
Whereas the welfare state in the Global North has been a response to industrialization and the rise of the workers' movement, the Global South is characterized by different legacies of social policy that stem, among others, from their colonial histories and the influence of transnational actors such as international organizations. In recent decades, social policies have further expanded across the Global South, as international organizations such as the ILO have (re-)discovered global poverty and the widespread lack of social protection for certain groups in the so-called "developing world" as intertwined. In light of far-reaching societal transformations, there have certainly been large-scale social policy developments in these countries in recent decades.
This lecture series hosts eminent scholars of social policy, anthropology, development and related fields, who will present their work on new frontiers of research on welfare in the Global South. Overall, the lecture series enquires into the varying trajectories of welfare transformations in the Global South and their political, historical and social contexts.
All lectures, with exception of the first, will be hybrid events. To register to the Zoom events click here.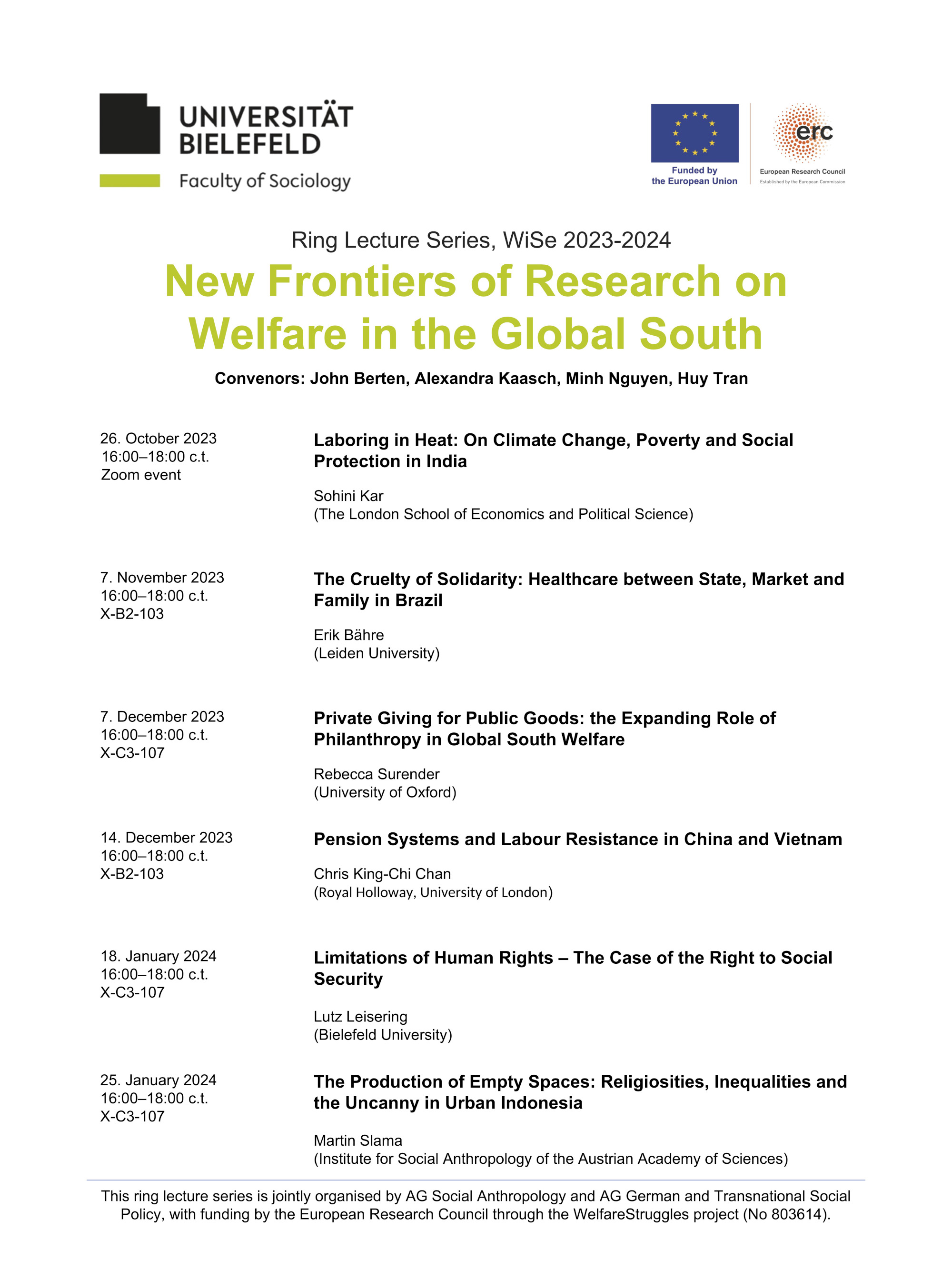 Die Arbeitsgruppe Sozialwissenschaften und Ihre Didaktik der Universität Bielefeld lädt zur 6. Jahrestagung der Gesellschaft für sozioökonomische Bildung und Wissenschaft (GSÖBW) unter dem Thema Transformationen der Arbeit - Herausforderung für sozioökonomische Forschung, Bildung & Lehre?
Zielsetzung der GSÖBW-Jahrestagung 2023 in Bielefeld ist es, den interdisziplinären Dialog zu fördern. Vor allem aber sollen auch gemeinsame Forschungsperspektiven von Fachwissenschaft und Fachdidaktik auf das Themenfeld Arbeit, Berufswelt und Berufsorientierung ausgelotet werden.
Das Nachlass- und Editionsprojekt "Niklas Luhmann - Theorie als Passion" beginnt mit der digitalen Edition des zweiten großen Bestands im Nachlass des Soziologen Niklas Luhmann: den ca. 4000 Manuskripten von Monographien, Aufsätzen, Vorlesungen und Vorträgen. Anlässlich einer Luhmann-Ausgabe der Zeitschrift für Ideengeschichte werden aktuell ausgewählte Manuskripte präsentiert. Zukünftig werden in regelmäßigen Abständen zunächst die über 500 Vortragsskripte aus der Zeit von 1966 bis 1996 als Faksimiles und in einer transkribierten Fassung online gestellt.
The first paper of the new working paper series »Bielefeld Anthropological Papers on Issues of the Global World (BAPGW)« has been published.
BAPGW features innovative theoretical and empirical analyses by scholars working on socio-cultural, economic and political issues of global implications in diverse contexts whose works are anthropologically and ethnographically oriented. The series provides a platform for staff members, guest speakers and visiting scholars of Bielefeld University's Faculty of Sociology to disseminate their findings, gather feedback and initiate discussion on their ongoing works. The series is edited and sponsored by the Faculty's Department for Sociology of Transnationalisation and Social Anthropology.
The paper by Vineeta Sinha (University of Singapore) is titled »Hindu Deities on 'World Tour': Unbounded Efficacies«.
For more information and access click here.
»Rural Life in Late Socialism: Politics of Development and Imaginaries of the Future« has been published by Brill as an open-access book. This is an updated version of the special issue with the same name, which was edited by Phill Wilcox, Jonathan Rigg, and Minh Nguyen. Catrina Schwendender contributed a chapter titled »A Good Life Postponed: Working in the Countryside, Retiring in the City in Contemporary China.« For more information and open access click here.
---